Each year we provide as many as 150 Upper Peninsula non-profit organizations and associations with grants and volunteer support that improve the quality of life in our region. None of the funds provided come out of any portion of UPPCO's operational budget. Instead, charitable funds come from two sources:
A portion of the donated funds comes from the generosity of current and former UPPCO employees, who regularly contribute through the United Way.
Funds are drawn from UPPCO earnings as profit after all operating costs and reinvestment into operations have been accounted for.
Here are a few examples of our community support efforts: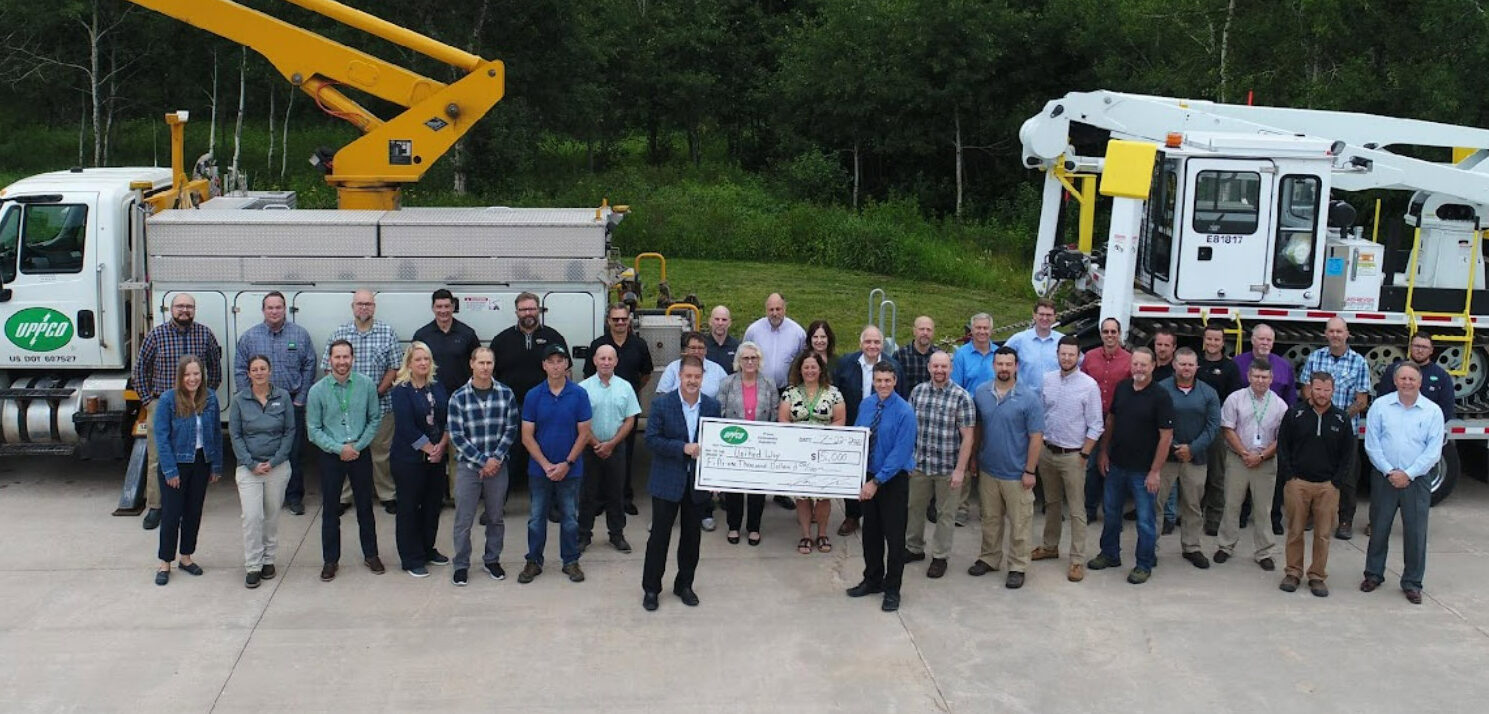 UPPCO CEO Jim Larsen (left) presents a check to United Way Executive Director Andrew Rickauer (right), surrounded by UPPCO employees.
United Way
UPPCO employees lead the way in supporting the United Way. Employees make payroll deduction pledges and the company matches their gifts dollar for dollar. To support the United Way belief of "Give Where You Live", employees from all over UPPCO's service area participated to benefit the United Way in Marquette County, Copper Country, Delta County, Gogebic Range and Dickinson County.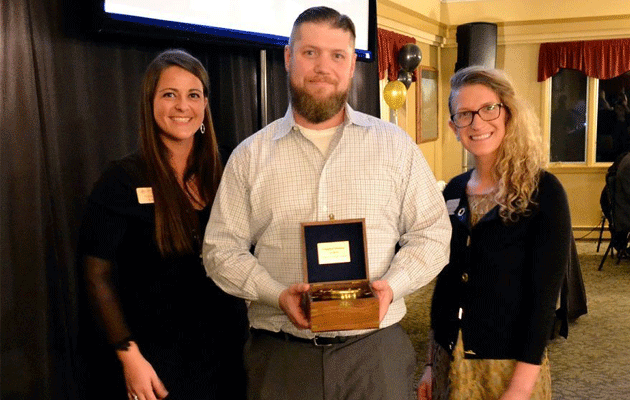 UPPCO'S Katie Kern presents Business of the Year award to Brian Richards, Brewer for local microbrewery in Ishpeming MI, Cognition.
Greater Ishpeming-Negaunee Area Chamber of Commerce
UPPCO's donation to the Greater Ishpeming Negaunee Chamber of Commerce and their Annual Dinner & Meeting supports the continued operation and growth of local businesses. Chambers strive to promote their member businesses while providing valuable resources and engaging events for the community. Above left is UPPCO's Katie Kern, presenting Brian Richards (center) of Cognition Brewing with the Business of the Year Award. Kern, as well as several other UPPCO employees, have held or currently hold positions on the the GINCC's board of directors. Supporting local businesses keeps dollars local and helps our ecoonomy.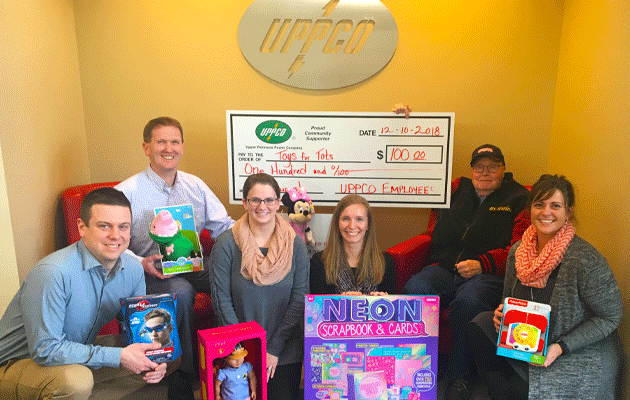 UPPCO employees of the Marquette office pose with a fraction of the company's items collected for 2018 Toys for Tots Campaign.
2018 Toys for Tots
UPPCO supported the annual Marine Corp Reserve Toys for Tots campaign of the Marquette County Area as well as the Houghton/Keweenaw Areas. Toys for Tots is managed by dedicated United States Marines and local volunteers. Pictured above are several UPPCO employees with a fraction of the toys donated by them for the 2018 collection. UPPCO makes a monetary donation to both campaigns in addition to all the amazing toys donated by employees.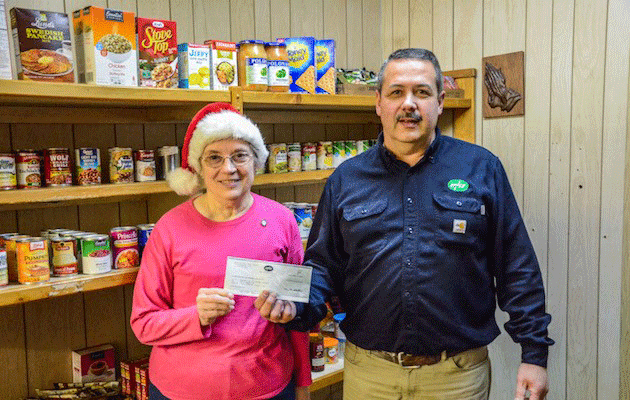 Scott Roehl, UPPCO Operations Supervisor, presents a check to Jo Callovi, president of the Sts. Cecilia and Agnes Conference, Society of St. Vincent de Paul.
St. Vincent De Paul
UPPCO supports the work of the Society of St. Vincent De Paul, which provides food, clothing, and other assistance to neighbors in need. Funds granted were used to help the charity's efforts in Iron County.
Supporting the Historical Society of Michigan's U.P. Centennial Farms
Upper Peninsula farming families have helped define the culture of the Upper Peninsula and contributed to Michigan's development. As a sponsor of the Historical Society of Michigan 's Centennial Farm Program, UPPCO helps commemorate the dramatic changes electricity has brought to farm operation and family life.
The Centennial Farm program recognizes farms that have remained in the same family for 100 years or more. To be designated as a Centennial Farm, a property must be a working farm of 10 or more acres that has been continuously owned by the same family for at least 100 years. Once a farm is certified through the Michigan Centennial Farm Program, the owners will receive a certificate as well as a display marker for their farm.
The official green-and-yellow markers are sponsored by UPPCO in our Upper Peninsula service area. UPPCO is proud to recognize these Centennial Farms:
The Richer Centennial Farm Designation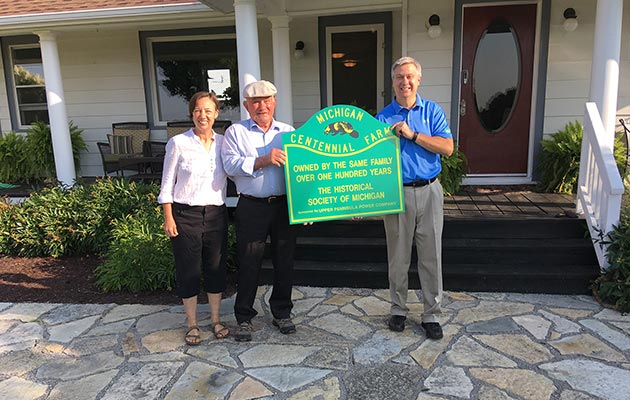 Dale and Renee Richer accept their Centennial Farm marker from UPPCO's Dave Puskala. The Richer farm in Flat Rock was purchased by the family in 1909.
The Vuk Family Centennial Farm Designation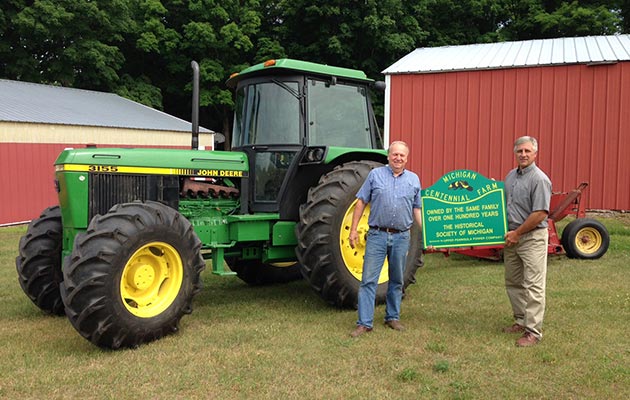 Carl Vuk accepts his Centennial Farm marker from UPPCO's Dan Crane. The Vuk farm in L'anse was founded in 1914.
Centennial Farms Recognized by UPPCO
| Farm Name | Year Founded | County | Centennial Certification Date |
| --- | --- | --- | --- |
| Augustus Schaffer Farm | 1857 | Ontonagon | 02/01/1962 |
| James Daniels Farm | 1865 | Ontonagon | 01/18/1966 |
| Jermiah Penegor Farm | 1850 | Ontonagon | 06/16/1966 |
| Alex Rheault Farm | 1866 | Houghton | 9/22/1969 |
| Patrick DeLoughary Farm | 1882 | Menominee | 04/15/1982 |
| August and Sophia Krans Farm | 1882 | Iron | 03/08/1985 |
| Joel David and Anna Millard Farm | 1857 | Ontonagon | 05/10/1985 |
| Peder Olaus Olsen Farm | 1884 | Iron | 09/23/1985 |
| Fred A. and Regina Hall Farm | 1889 | Iron | 05/20/1986 |
| Carl Kunde Farm | 1881 | Marquette | 11/24/1986 |
| John Soderquist Farm | 1894 | Iron | 01/06/1989 |
| Richard and Ann Pawley Farm | 1888 | Schoolcraft | 05/17/1989 |
| Wardeslaw Luba Farm | 1893 | Iron | 02/13/1990 |
| Martin and Anna Smydra Farm | 1891 | Ontonagon | 09/13/1991 |
| William Davey Farm | 1853 | Ontonagon | 02/19/1992 |
| Louis and Melina Vadnais Farm | 1885 | Houghton | 05/08/1992 |
| Minnie Rosenquist Farm | 1893 | Iron | 04/28/1993 |
| Johan Simi Farm | 1899 | Houghton | 09/01/2000 |
| Alphonse and Elizabeth DuBord Farm | 1900 | Delta | 03/30/2001 |
| George Wittaker DeLoughary Farm | 1891 | Menominee | 06/28/2002 |
| John Erick and Wilhelmiina Kangas Farm | 1903 | Ontonagon | 06/30/2003 |
| Hans and Amalia Hannula Farm | 1888 | Houghton | 11/14/2003 |
| Farm | 1903 | Menominee | 11/14/2003 |
| Joseph and Angeline Herioux Farm | 1896 | Delta | 10/15/2004 |
| Joseph and Emma Kyllonen Farm | 1904 | Houghton | 07/16/2005 |
| Jacob and Augusta Shunk Farm | 1898 | Marquette | 09/10/2005 |
| Alfred Smedlund Farm | 1906 | Iron | 03/28/2006 |
| Noel Bissonette Farm | 1883 | Delta | 2/19/2008 |
| Jacob Wurzer Farm | 1910 | Iron | 9/28/2010 |
| George and Catherine Hughes Farm | 1902 | Delta | 11/21/2011 |
| Joseph and Adelle Germain Farm | 1905 | Delta | 11/30/2012 |
| Stanislaus Krolik Farm | 1891 | Baraga | 4/12/2013 |
| Henry Witte Farm | 1914 | Delta | 6/4/2014 |
| Eli and Johanna Turpeinen Farm | 1915 | Baraga | 6/3/2015 |
| Anton and Anna Vuk Farm | 1914 | Baraga | 2/13/2018 |
| Joseph Emanuel Richer Farm | 1908 | Delta | 8/2/2018 |

Charitable Contribution Guidelines
UPPCO gives funding priority to organizations that:
Are located within or provide significant benefit to communities served by UPPCO
Promote volunteerism
Cooperate, rather than compete, with similar organizations, and strive to minimize duplication of services
Hold nonprofit status
UPPCO focuses funding efforts in five major categories:
Arts & Culture: We support projects that promote diversity and make the arts accessible to all people, including theater, dance, music, and museums.
Community and Neighborhood Development: We support nonprofit organizations dedicated to community improvement.
Education: We support programs where businesses and educational institutions partner, provide career planning, and mentor youth.
Environment: We protect and encourage the wise use of natural resources and support efforts towards the betterment of fish and wildlife, water and air quality, forests, energy efficiency, renewable energy, and recycling.
Health and Human Services: We support wellness programs and those that serve limited-income, senior, and handicapped individuals.
If you have read our contribution guidelines and feel your request qualifies, click the button below to apply for a grant.
*UPPCO reserves the right to amend, suspend or terminate the Charitable Contributions program at any time without prior notice.
What we do not fund:
Individuals
Churches and other religious organizations
Political organizations
Organizations that discriminate for any reason, including race, color, religion, creed, age, gender, national origin or sexual orientation
National and international organizations that operate outside the area we serve and whose funds are not used locally
Free electric service, moving of poles or utility-related construction
Sponsorship/Donation Request
If UPPCO hasn't provided funds to your organization in the past, please submit a W-9 form to donations@uppco.com

The UPPCO Dollars for Doers Program offers an opportunity for employees and retirees to volunteer and raise funds for their favorite nonprofit organizations. Employees and retirees who volunteer can earn donations of up to $300 per year for the organization of their choice, provided the nonprofit's mission and work fit into the five priority areas of UPPCO charitable giving (see Charitable Contribution Guidelines).
Dollars for Doers request form should be submitted by December 31 of each year for volunteer hours performed that calendar year.
Please direct questions to donations@uppco.com.