How Electric Rates are Set
We work to provide reliable, safe and economical energy services and offer a variety of rates to serve your unique needs. The electric services we deliver are regulated by the Michigan Public Service Commission (MPSC).
What Costs are Included in Rates
Generally speaking, rates are divided into three parts:
Major investments that generate and deliver energy, including power plants and electric distribution (poles and wires). This includes upgrades to stay current with environmental regulations.
Operating expenses, including fuel for power plants (such as oil and natural gas), the cost of electricity we purchase from the energy market and activities related to maintenance, repair, service and billing.
Michigan energy programs that support areas such as energy efficiency and renewable energy.
Your Bill - Section by Section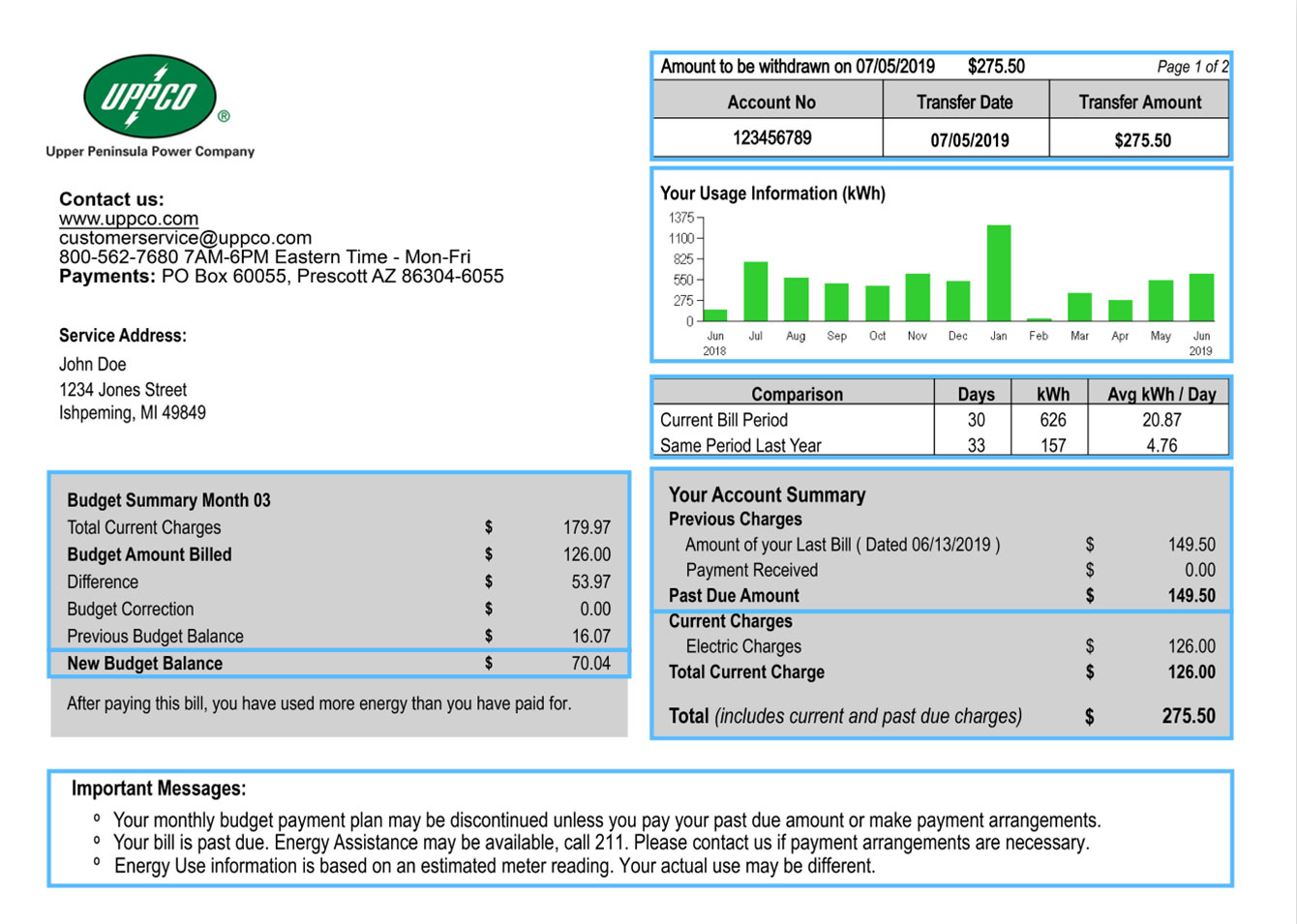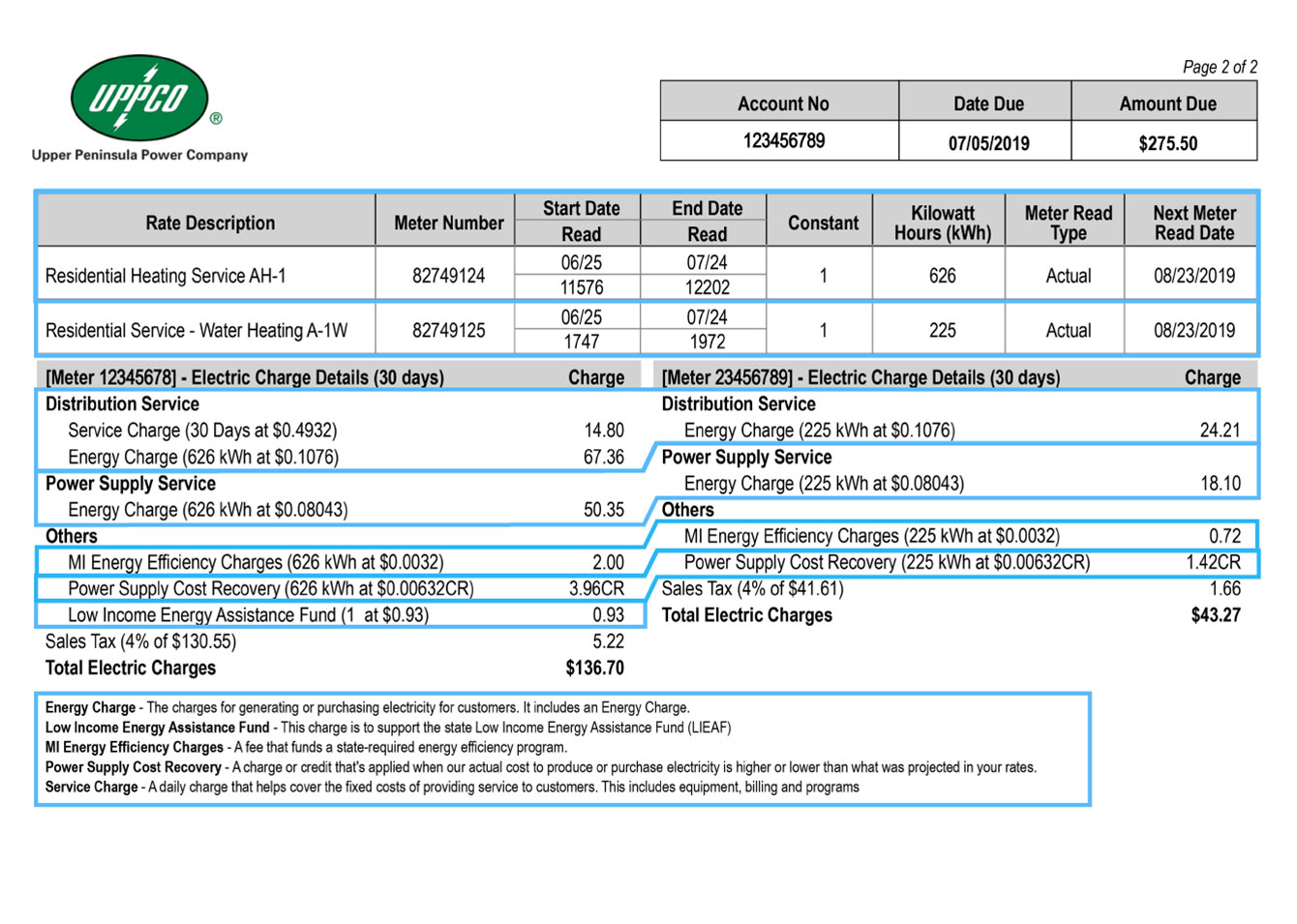 How Your Meter Is Read
Upper Peninsula Power Company is permitted to read residential meters bi-monthly. While we make every effort to obtain actual readings for customers that are scheduled to be read, occasionally we may have to estimate due to access issues or other unforeseen circumstances.
Any difference will be automatically adjusted after your next actual meter reading.
To avoid an estimated bill, many customers prefer to provide meter readings covering the months that we do not take an actual reading. The next scheduled UPPCO meter reading date is listed as Next Meter Read Date on page two of your bill. To ensure that your reading can be used for billing, we encourage customers to call (800) 562-7680 or email customerservice@uppco.com with their meter reading no later than the day of the next meter read date. You can also contact us to obtain meter reading cards. However, cards containing readings must arrive at UPPCO before the next meter read date.
The reading in the example below is 94838:

Reading your electric meter is straightforward. For mechanical meters, the dials, which look like little clocks, alternately run clockwise and counterclockwise. Reading from left to right, write down the last number the needle has passed. If the needle is between two numbers, UPPCO will use the lower of the two numbers. When the needle is between a 9 and 0, the 9 is used. As an example, the correct reading concerning the dials above is 94838.* The difference between the new reading and the previous reading is your monthly energy use.
*Dial 4 is still read as a 3 despite the needle being on 4 because the dial to its right has not passed 0.
Residential Digital Meters
UPPCO digital meters will scroll through a number of different screens while operating. Your energy consumption will appear as five or six digits on the screen. Ignore any screens that contain all 0s and all 8s.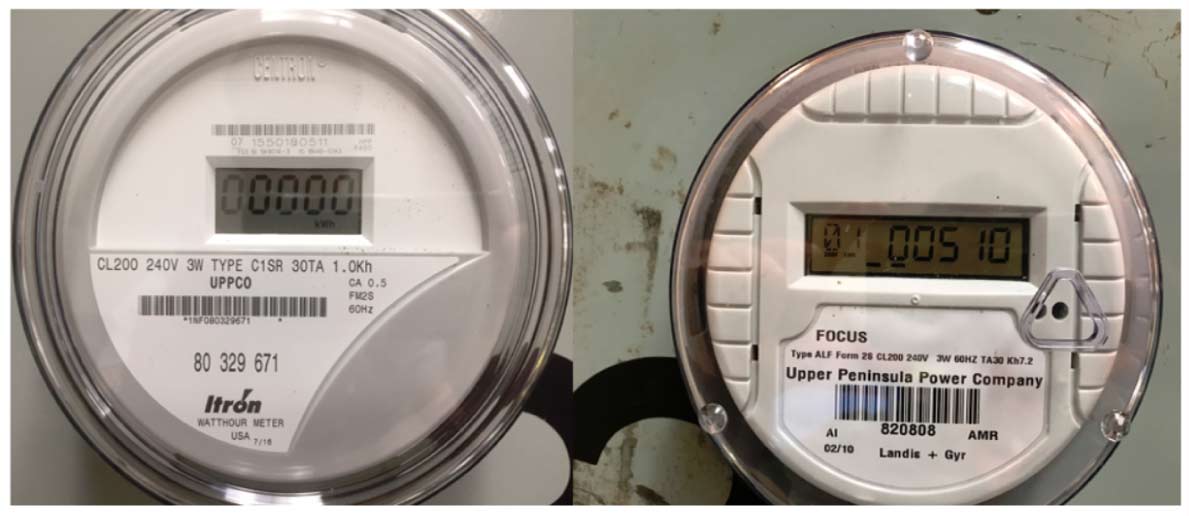 If you choose to submit your own meter-reads on estimated months, UPPCO has three convenient ways you can get them to us:
1.) Submit your meter-read using the UPPCO Customer Online Portal. Login to your account HERE.
2.) Email your meter-read to UPPCO Customer Service at this address: customerservice@uppco.com
3.) Submit by calling UPPCO Customer Service at (906) 449-2013 / (800) 562-7680.
Advanced Metering and the Smart Energy Initiative
UPPCO's Smart Energy program launched in 2018. We're working to improve reliability and deliver enhanced customer service. To learn more about the Smart Energy Initiative, smart meters and what it means for you, visit the Smart Energy page.
Billing Information and Services - Frequently Asked Questions
More helpful information and Frequently Asked Questions to help you understand your bill and to customize how you manage your transactions with UPPCO.
Trouble Shooting - Clearing Web Browser Cookies/Cache
You may find that in order for some of the functions within your Online Customer Account to work properly, you will need to clear the cookies and cache of your web browser. Learn how to clear the cookies in your web browser.
Glossary of Billing Terms
The terms that are used on your bill are explained in more detail here:
e-Bill Paperless Billing & Payment Frequently Asked Questions
e-Bill Paperless Billing is an electronic billing and payment option that eliminates your paper bill altogether.
Automatic Payment Frequently Asked Questions
Auto-pay is a great way to have your energy bill paid automatically every month.
Budget Billing Frequently Asked Questions
With Budget Billing, we review your past energy use, estimate your total energy costs over the next year and then simply bill you for 1/12 each month.
Kubra EZ-Pay Frequently Asked Questions
With Kubra EZ-Pay, you can pay your UPPCO bill with your credit card, pinless debit card or checking account.
Start-Stop Service Frequently Asked Questions
For questions you may have regarding starting, stopping or transferring service.
Summary Billing Frequently Asked Questions
Summary Billing is a free service that consolidates all your accounts into one summarized monthly bill with one due date.